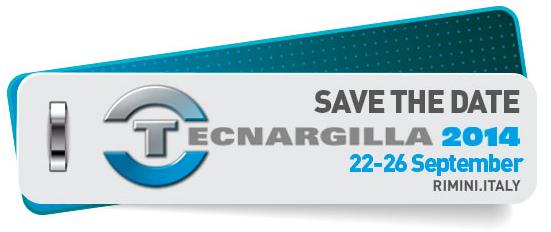 Ceramic Instruments Srl - HALL B4 - STAND 020
Tecnargilla is theworld´s most important showcase of technological and stylistic innovation for the ceramic and brick industry, offering a sneak preview of the products in store for the future.
Tecnargilla presents the broadest product range of all fairs in the sector, hosting the leading producers of technology for tiles, bathroom fixtures, bricks, dishware, refractory materials, and technical ceramics.
In 2012, it housed over 450 exhibitors in a gross exhibition area of 75,000 square meters.
In 2012 it drew 30,458 visitors, 14,822 of them (48,7%) from abroad and all highly qualified, marking a 1.5% increase in attendance from 2010 and once again proving to be the fair most popular with international trade visitors.
Tecnargilla is the only opportunity to meet the leaders in the ceramics market. It´s no coincidence that it is held in Italy, a country known to lead the world in ceramics and related technology.